[ad_1]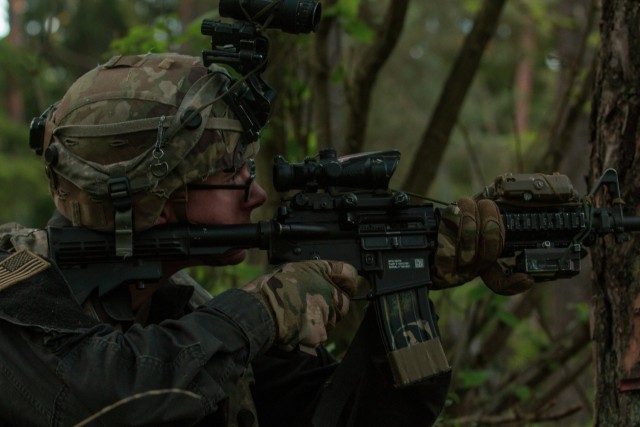 HOHENFELS, Germany — As Combined Resolve XVII enters its final days, U.S. Army soldiers, alongside fellow nations across the European theater, put their skills and training to the test in a major simulated attack.
Combined Resolve is a multinational exercise conducted at the Joint Multinational Readiness Center in Hohenfels, Germany, designed to test and certify brigade combat teams, as well as enhance interoperability with Allies and partners.
Combined Resolve XVII features the 1st Armored Brigade Combat Team, 3rd Infantry Division, with over 5,600 participants from Belgium, Bosnia and Herzegovina, Czech Republic, Estonia, Greece, Italy , Kosovo, Lithuania, Moldova, North Macedonia and Poland on the battlefield, learning to fight together.
"I enjoy working in the field with our NATO partners and allies, especially the Czechs, and seeing the equipment from all countries," said Second Lieutenant Christian Timana, 1st ABCT Signals Officer, 3rd ID. "The Combined Resolve interoperability was an opportunity to bring all of our training together."
The units involved in the formation come out of the "closed phase" and begin the "open phase" of the exercise. The closed phase is an opportunity for units to integrate and train with their international partners as well as retrain on existing systems and exercises they are expected to know.
"Hohenfels and the Joint Multinational Readiness Center prepared my team and I to conduct operations at an advanced level," SPC said. Brett Tomlin, Multi-Channel Transmission Systems Operator and Maintainer with 1st ABCT, 3rd ID.
Moving into the open phase, soldiers will be tested on all the training they have conducted and will be expected to coordinate, maneuver and execute freely on the training grounds. US Army spotters, trainers/trainers, referred to as OC/Ts, will have a more hands-on approach, allowing for more realistic combat simulations. The battlefield training is realistic and aims to provide the ultimate readiness training for all brigade combat teams, including partner nations, such as the Czech Republic.
"Exercise Combined Resolve is also the highest level of readiness we have achieved for 7 BCT certification in the international arena at present," the Czech Army Brigadier said. General Petr Svoboda. "In the cauldron of 12 nations, we will develop mutual trust."
Combined Resolve training aims to produce credible armed and allied forces and partner nations in combat, ensuring the readiness and lethality needed to defend against a close peer adversary.
"Combined Resolve was an opportunity for 1/3 ID to put our training to the test. Working alongside our NATO partners and allies enhances our interoperability through challenging and realistic scenario-based events," said 1st ABCT Commander Col. Peter Moon. "There is simply no substitute for the training offered by Combined Resolve. Our presence, combined with our allies, enhances the lethal capacity of all Raiders and their enablers.
Follow more Combined Resolve content here: https://www.dvidshub.net/feature/CombinedResolve
[ad_2]
Source link