By Nadia Fazlulhaq
View (s):
Boutique tourist hotel owners are selling personal vehicles and hotel furniture, cutlery and bed linen online to stay afloat as they see little chance of quick recovery despite talk of the tourist industry picking up for the European winter.
The Sri Lanka Tourism Development Authority (SLTDA) said 5,040 tourists arrived in August compared to pre-COVID years when about 150,000-200,000 tourists visited the country during that month.
September's arrivals (from September 1-23) saw a gradual increase to 11,130, mainly due to the "buy one, get one free" promotional offer that attracted about 7,000 Indian tourists.
Between January and August about 25,000 tourists visited the country. In 2019, 1.9 million tourists came, bringing income to about three million people directly and indirectly involved in the hospitality sector.
Last month's tourist arrivals include 594 from Canada, 512 from Germany, 489 from the United Kingdom, 405 from India, 311 from the United States, 248 from France, 247 from Russia, 178 from China, 152 from Switzerland and 115 from The Netherlands.
There were fewer than 100 tourists each from Australia, Japan, Israel, Poland, the Czech Republic, Singapore, Spain, Norway, Austria, Italy, Sweden and Saudi Arabia. Fewer than 10 visitors came from South Africa, Finland, Malaysia and Taiwan.
"Unemployed hotel workers from a once-flourishing industry continue to suffer from pandemic lockdown and restrictions. We are sad to see our employees suffer but we are helpless. I had to sell a personal vehicle to continue with hotel maintenance and day-to-day expenses, "said Ella Hotels Association President Malith de Silva.
He said most of the small guest houses have been closed down, with no income for close to two years.
"These are tourist areas – all our income were based on tourist arrivals. The people in the area are lost. Most of their savings are over and have come down to selling hotel furniture, "Mr. de Silva said.
"It has been close to two years with zero income. All employees have been sent home. I am selling several furniture, bar and kitchen items, serving ware, bedspreads, wall décor, antique display items, all online. Once tourists start coming in big numbers I might reconsider. For now, I am planning for other business opportunities, "said an owner of a small boutique hotel in the south.
Tourism officials are urging hoteliers to keep hopes up as they believe December to March will be promising months.
As a measure to keep the industry alive, the Central Bank has requested licensed commercial and specialized banks to extend the debt moratorium granted to the tourism sector for another nine months. The relief measure will be extended until June 30, next year.
"The industry is recovering and planning to welcome about 5,000 per day next year," Tourism Minister Prasanna Ranatunga said this week, sounding an optimistic note.
He acknowledged that the COVID-19 pandemic has hit the tourist industry hardest.
"The government has taken measures to provide relief for [stakeholders] to pay loan installments, electricity bills, lease payments and allowances, "Mr. Ranatunga said, elaborating that allowances included payments of Rs. 15,000-20,000 for registered chauffeurs and tourist guide lecturers.
"Introducing PCR testing within the Bandaranaike International Airport was another measure to encourage tourists while assuring hassle-free visit by limiting quarantining in hotels for fully-vaccinated tourists," he added.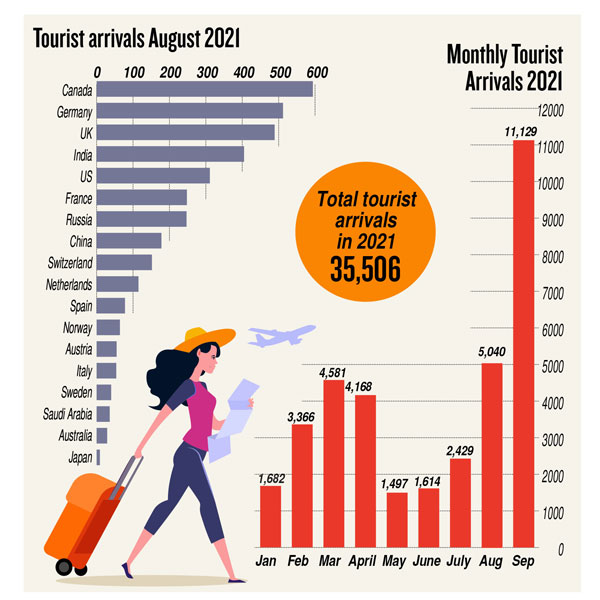 SLTDA Director-General Dhammika Wijesinghe told the Sunday Times plans were afoot to increase promotion in the high-end European tourism market.
"We will be taking part in the World Travel Market London early November and a French Travel Fair in October. There will be heavy propaganda to attract Europeans. Discussions continue on offering concessionary ticket rates for those visiting wildlife parks and the Cultural Triangle, "she said.
Global travel specialist Expedia this week said Sri Lanka's popularity among Britons as a "next destination" has increased by 20 percent.