Greece and Iraq to help Lithuania cope with arrivals of migrants from Belarus
The Iraqi government has said it will investigate migrant smuggling after more than 1,500 nationals, mostly Iraqis, entered Lithuania from Belarus in the past two months. In addition, the Greek government plans to provide Lithuania with expertise and technical support.
On Thursday, July 15, Iraqi Foreign Minister Fuad Hussein said his government would investigate smuggling rings suspected of bringing hundreds of Iraqis to Europe, with emphasis on the route via Belarus to Lithuania .
Hussein made the promise after meeting in the capital Baghdad with his Lithuanian counterpart, Gabrielius Landsbergis. Lithuania, a member state of the EU, had "called on Iraq to act in this matter", Associated press (AP) the news agency reported on Thursday.
Speaking to reporters at a joint press conference with Landsbergis, Hussein said Iraq would form a committee with representatives from the Foreign Ministry, the Migration Ministry as well as intelligence and aviation authorities. to crack down on smuggling networks, the statement said. PA.
During the press conference, Landsbergis called the disruption of smuggling networks from Iraq to Europe a "mutual need" because it was carried out by "malicious actors" using criminal elements.
Lithuanian Foreign Minister accuses neighboring Belarus of encouraging migration to Lithuania. Earlier this week, he accused Belarus of using migrants as "a hybrid weapon against the European Union" to force the bloc to change its policy towards Belarus.
In the past two months, more than 1,500 people have entered Lithuania, 20 times more than in 2020. In response, Vilnius declared a state of emergency and accused Belarus of organizing the border crossing by people, mostly from Iraq.
Support from Greece
During a meeting Thursday between Lithuanian Prime Minister Ingrida Simonyte and Greek Prime Minister Kyriakos Mitsotakis, the latter said Greece was considering providing Lithuania with expertise and technical support.
On Twitter, Simonyte said his country has been providing "personal and technical support" to Greece since 2015.
In line with the more aggressive migration strategy of European policymakers over the past five years, Greece maintains strict controls on its sea and land borders with Turkey. All migrants seeking to reach the Greek Aegean Islands are arrested and their boats forced to turn around. Recently, authorities have started using digital technologies such as drones, sound cannons and AI-powered lie detectors to detect and deter migrants, raising human rights concerns.
In February 2020, Greece and the European Union faced a sharp increase in migrant arrivals from Turkey after Turkish President Recep Tayyip said he would not stop refugees wishing to travel to Europe . Thousands of migrants from Turkey have made their way to Europe, but officials at the EU border agency Frontex and Greek security forces have prevented most from entering the bloc.
"We want to learn from the experience of Greece," Simonyte told Greek television on Thursday.
Rising tensions between Lithuania and Belarus
"We believe that the Iraqi people are becoming a victim of the Belarusian regime," Landsbergis said at the press conference.
He said he told his Iraqi counterpart Hussein some of the testimonies the Lithuanian authorities collected from 800 Iraqi migrants on how they were smuggled into Lithuania.
"The Iraqi people are promised an easy journey to Europe, a sort of European paradise, but the problem is that they end up in a Lithuanian forest in a refugee camp," Landsbergis said. "We think these people were lied to, they had to pay a lot of money to get to the border."
Migrants from Verebiejai, Lithuania, told the PA earlier this week they came to Minsk from Baghdad.
"I gave someone $ 1,400 [€1,186] to take me to the woods. I think it was the border. They showed me the way. They said to me: go this way. Then I walked, " said an anonymous migrant. Another told the same story and added that he had booked a hotel in Minsk and after that "started trying" to cross the border into Lithuania.
On May 26, Belarusian President Alexander Lukashenko indicated that Belarus could retaliate against the latest EU sanctions by relaxing border controls for irregular migrants to the west as well as for drug trafficking. "We used to catch migrants en masse here – now forget about it, you will catch them yourselves," he said.
The announcement came after the EU imposed sanctions on the non-EU country over the forcible hijacking of an airliner en route to Vilnius to arrest a Belarusian dissident.
The Baltic country of 2.8 million people, which also borders Poland, Latvia and the Russian enclave of Kaliningrad, has criticized Belarus over the brutal crackdown after a presidential election last year that the president Alexander Lukashenko claimed to have won after 26 years of authoritarian rule, but the opposition says it was rigged.
The increase in arrivals continues
This week, more migrants crossed the 679 kilometer border between Belarus and Lithuania, which is also the external border of the European Union.
"A country hostile to us, our neighbor, is using migrants, mainly Iraqis, to put pressure on my country, to pressure the European Union to change policies," Landsbergis said at the press conference .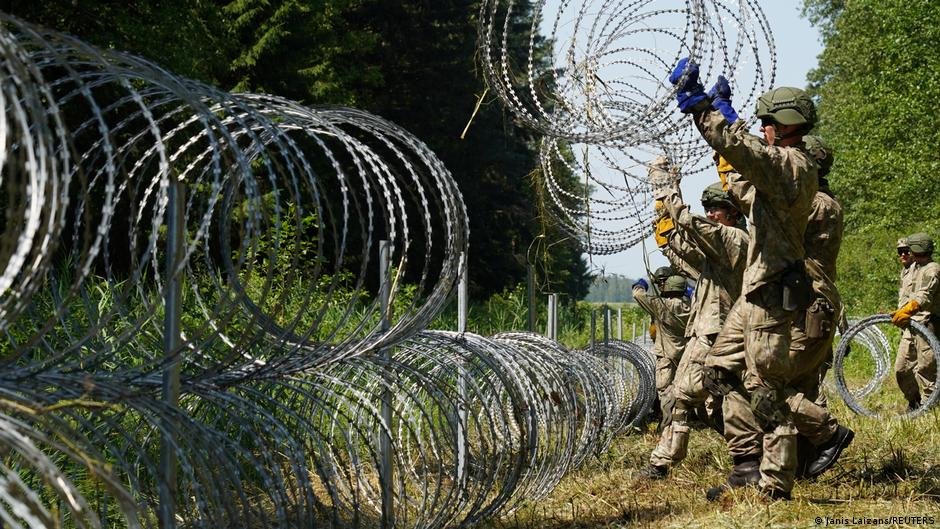 Last week, Lithuania announced that it would build a wall along its border with Belarus. German information site Zeit online reported that Lithuania wants to expand electronic surveillance with cameras on its border with Belarus from around 40% currently to 100% by the end of next year.
On Tuesday, the Lithuanian parliament approved a series of new laws strengthening the rules on migration and asylum. Among other things, the new laws allow the detention of asylum seekers and limit migrants' right of appeal.
The European border agency Frontex announced on Saturday July 9 that it would increase its support for Lithuania. The agency also plans to send border guards to Latvia, which also borders Belarus, but has not seen an increase in irregular border crossings.
With AP, dpa