Almost every country in the world has increased its offerings for luxury travelers, with truly impressive new hotels, resorts and renovations. However, it seems Mexico has stood out lately with its range of high-end accommodation offerings like One&Only Mandarina and Etéreo Auberge Resort. Add another to the list, then – the longtime Esencia Hotel which will open later this month the new 12,000-square-foot Esencia Mansion, a masterful four-suite estate with its own 20-seat theater and a very attractive underground speakeasy.
Sprawling on the pristine white sands of Xpu Ha Beach in Riviera Maya, just 30 minutes south of Playa del Carmen, Hotel Esencia is the former home of Italian Duchess Rosa de Ferrari turned into a private estate of 50 acres and 29 rooms frequented by luxury. travelers swoop after quintessential Cancun.
The new boutique extension seems to take much of the character of this unique property and double down on the privacy. Esencia Mansion is custom-designed for groups of eight, brought to life with the big ideas of New York interior designer Giancarlo Valle who worked with the hotel's in-house team and owner, Hollywood producer and media entrepreneur Kevin Wendle.
---
---
Contemporary artist and hotel regular Marcel Dzama was commissioned to decorate the Esencia Mansion with his works, which are featured in all spaces alongside pieces from Wendle's private collection.
The mansion has lots of oversized windows to make the most of the surrounding tropics and constantly pull in plenty of natural light while illuminating spaces like the living room, which has its own bar and the kitchen with dining area which, of course, has its own space for a private chef to come and cook a Mexican feast for the boys. There is also another family kitchen which connects to a terrace so you can have breakfast outdoors.
The master bedroom is flooded with daylight and connects to an opulent en-suite bathroom with a separate shower room, stand-alone bath, dual sinks and its own indoor-outdoor pool. Adjacent to this is an office which opens onto another terrace large enough to accommodate a hammock for maxo relaxo. All other suites are designated "jungle suites" and, though a bit smaller, have their own outdoor terraces and separate living rooms.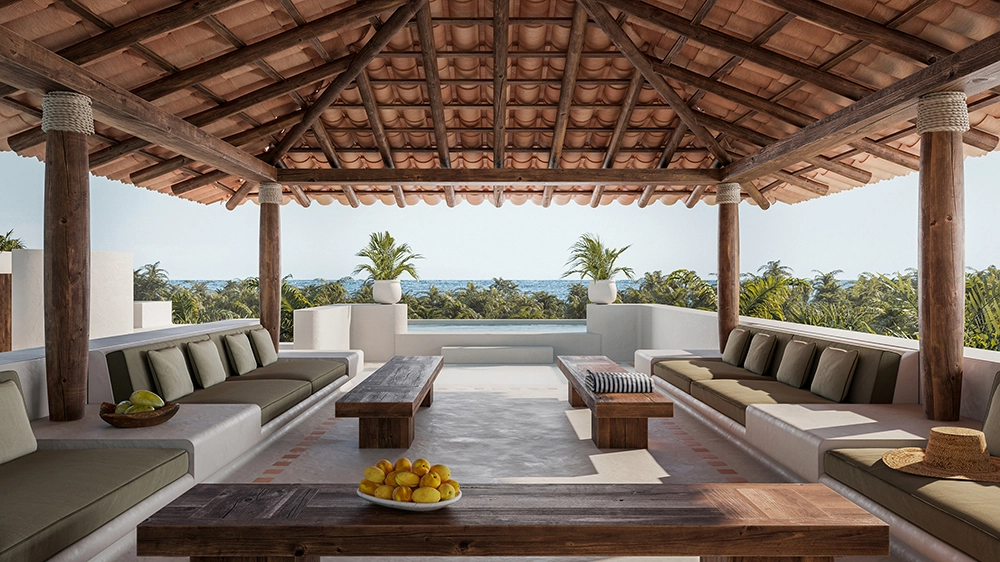 The roof is where you will spend most of your time. Overlooking the treetops, there's a plunge pool here as well as a large covered terrace that seats up to 20 people with plenty of lounge chairs and panoramic views of the jungle and ocean.
A well-stocked and contemporary fitness studio takes up a nice chunk of the mansion, but most unique is the aforementioned hidden screening room, nodding to Wendle's days as a TV producer, and this well-dressed underground speakeasy and well-stocked that has its own jungle entrance and DJ booth in case your team wants to step it up a few notches.
To enhance the appeal of uncompromising luxury travelers, a private helicopter service is available when the team wishes to book private tours to explore other parts of the region such as Coba, Bacalar, Mérida and the historic ruins of Tulum.
The Esencia Mansion opens later in September 2022. Rates start from 11,000 USD (~AU$16,137) per night. For a crew operating at eight depths, that's around AU$2,000 per person per night. The private includes private round-trip transportation, personal concierge, daily in-villa breakfast, and resident chef.
---
---
Hotel Esencia
Address: 77734 Quintana Roo, Mexico
Contact: +52 984 873 4830