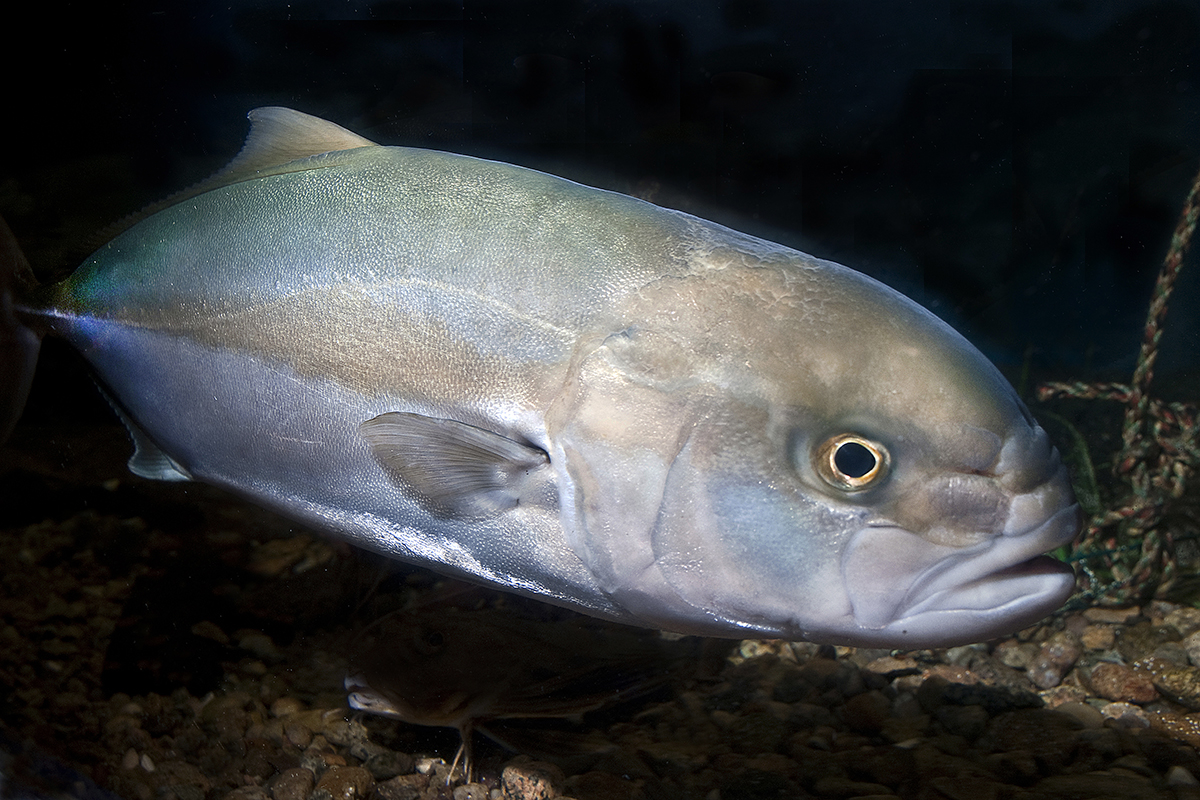 The big stubborn amberjack lives up to the name "reef donkey"
Amberjack is often referred to as a "reef donkey" by fishermen because of its strength and stubbornness. These powerful fighters can test any fisherman's tackle and his ability to land them.
Amberjack is commonly caught while anglers pursue king mackerel. They have deeply forked tails like that of the tuna. Fishermen capture this species by drifting with live or cut bait, jigging, and dragging with spoons and other deep artificial lures. Chumming will attract and maintain schools of amberjack near the boat.
The big amberjack is a large, fast swimming fish with a wide range in nature. They can be up to 6 feet long and weigh up to 200 pounds.
These fish are found from Nova Scotia, Canada, south to Brazil, the Gulf of Mexico, and then throughout the Caribbean. The record North Carolina amberjack was captured off Swansboro in 2008 by Michael Krantz.
Citation is given to North Carolina anglers for fish weighing 50 pounds or more, and an award is also given for the live release of any larger amberjack released 50 inches or more.
"The greater amberjack has a band of dark amber on the head, which extends from its snout to the first dorsal fin on the back, which becomes more distinct when the fish are excited or busy feeding. Their coloration includes a brownish or bluish-gray back, silvery-white underbelly, as well as the characteristic amber horizontal stripe along the midline or lateral line of their body. Young amberjack have a yellow color and five or six dark vertical bars along their sides, "said McLean Seward, a biologist with the North Carolina Marine Fisheries Division.
"This species can be seen swimming in and around wrecks, near reefs, rock outcrops, floating debris and sargassum blooms from open water and reef systems. Studies have shown that the amberjack generally moves in the spring from the Carolinas to southeast Florida, which could be linked to spawning activity, "he said.
"The greater amberjack can grow up to 6 feet long and live to about 17 years. While adults can weigh up to 200 pounds, they are typically put on up to 40 pounds. Females generally get bigger and live longer than males. This species reaches sexual maturity by the time it reaches around 3 to 5 years of age and typically breeds between March and July, with a peak during May and June on reefs and wrecks. A single female can release between 18 and 59 million eggs in each laying season, "he said.
"The adults mainly eat crab, squid and other fish found on the reefs. Juveniles feed on plankton, including larvae of crustaceans and other small invertebrates. Predators that feed on amberjack include seabirds and larger fish, such as yellowfin tuna, and some species of sharks, "Seward said.
Amberjack is an opportunistic predator that forages on reefs and wrecks in small groups or schools. They eat almost anything they can fit in their mouths and are able to swallow.
This species is managed by the South Atlantic Fisheries Management Board for North Carolina, South Carolina, Georgia and Florida, as well as their federal partner, the National Marine Fisheries Service of the National Oceanic and Atmospheric Administration, also known as NOAA Fisheries. There are three stocks of amberjack: the Gulf of Mexico, the South Atlantic and the Caribbean.
"The Gulf of Mexico stock is overexploited, according to a 2017 stock assessment, but is not subject to overfishing based on 2019 catch data. The South Atlantic stock is not overexploited and is not subject to overfishing based on a 2020 stock assessment. The population status of the US Caribbean Jacks Complex, which includes Amberjack, is unknown. The resort has not been assessed, but according to catch data from 2018, the resort is not prone to overfishing, "said Steve Poland, executive assistant to the boards of the North Carolina Marine Fisheries Division. and vice-chairman of the South Atlantic Fisheries Management Board.
"During a historically high period of landings in the 1980s and 1990s, amberjack became an important substitution for the red drum, which had seen a downward trend in commercial landings. In the Gulf of Mexico, fishing rates were too high and the stock was declared overexploited in 2001. The Gulf of Mexico stock has been in a rebuilding plan since 2003, "he said.
There is a daily recreational bag limit of one fish per person per day. In April, limits of one per person per day or one per person per trip, whichever is more restrictive, were put in place for rental and charter boats. The minimum size limit is 28 inches fork length.
Federal regulations governing the capture of this species in waters between 3 and 200 nautical miles offshore are mirrored by North Carolina in its state waters by proclamation. The opening season for recreational fishermen is from March 1 to the end of February each year.
Recreational and commercial fishermen are required to use stall tools when fishing for species of grouper snapper. At least one release device is required and should be used as needed to remove hooks embedded in South Atlantic grouper snapper with minimal damage. The hook removal device should be constructed in such a way as to allow the hook to be secured and the beard protected without re-engaging during the removal process. The end of the stall should be blunt and all edges rounded. The device should be of an appropriate size to secure the range of sizes and styles of hooks used in the South Atlantic grouper snapper fishery.
"A descent device must be on board and readily available for use on all vessels fishing for or possessing species of grouper snapper. A descent device is an instrument to which you must attach a minimum weight of 16 ounces and a length of line that will release the fish to the depth at which the fish was caught or to a minimum of 60 feet. The lowering device attaches to the mouth of the fish or is a container that will hold the fish. These must be able to release the fish automatically by the actions of the operator of the device, or by allowing the fish to escape on its own. Since reducing surface time is very important for increased survival, descent devices must be on hand and ready for use, "said Poland.
The use of non-offset stainless steel circle hooks is required when fishing for amberjack and other snapper and grouper species with line gear and natural bait.
In April of each year, harvesting or possession of amberjack is limited to one per person per day or one per person per trip, whichever is more restrictive, with no sale authorized and the fish having been caught in the waters of the State or federal. Since this species is managed under an annual catch limit, the fishery could close if the annual commercial catch limit is or should be reached.
"If an in-season closure was announced by NOAA Fisheries, all relevant information would be included on the website (South Atlantic Fishery Management Council)," Poland said.
The limit on commercial fishing trips for Season 1, which runs from March 1 to August 1. 3, is 1,200 pounds whole weight or gutted weight. Travel limits for Season 2, which runs from September 1 to the end of February, are 1,000 pounds whole weight or gutted weight. The minimum size limit is 36 inches fork length.
"There are two commercial fishing seasons for amberjack with 60% of the annual commercial catch limit allocated to season 1 and 40% to season 2, and the transfer of any remaining quota from season 1 to season 2 After the annual commercial catch limit is met, all buying and selling is prohibited and harvesting and / or possession is limited to the recreational bag limit. This ban does not apply to fish harvested, landed and sold before the annual catch limit has been reached and kept in a cold room by a dealer, "he said.